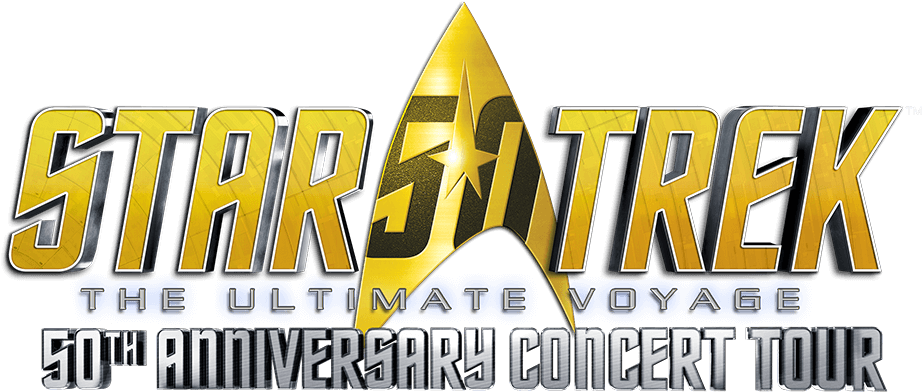 It's been the 50th anniversary celebration for Star Trek for two months now, and I haven't really done much to celebrate so far. Shame on me! But now, that's all behind me. Fellow [IGH] contributor Reboot and I attended Star Trek: The Ultimate Voyage at The Theater at Madison Square Garden in NYC.
This concert, produced by CineConcerts, is a musical look back at the past 50 years of Star Trek. Performed by the Czech National Symphony Orchestra, the concert includes over 30 pieces of music from the five television shows, eight of the movies and the video game Starfleet Academy.
The entire arrangement is narrated by Michael Dorn aka Worf in The Next Generation and Deep Space Nine. His narration opened with explaining Gene Roddenberry's vision, moving past acquisition of wealth to the betterment of humanity together. The music interweaves through this segment, connecting the spirit of Star Trek with the music.
Throughout the show, we moved through the various themes, alien races and shows of Star Trek. Highlights of Kirk facing an overwhelming challenge to Klingons battling for power. Moments of human potential, including great speeches from all the Captains were featured as well. Each show got a few moments to shine as well. The music moved seamlessly throughout the presentation.
The lighting and set designers deserve a round of applause as well. The lighting was perfectly synced with the music as well as the current theme. The set design held the same swooping lines as the Enterprise D bridge. It surrounded the entire orchestra and provided a great image. When the set around them was lit up in various colors, it reflected to tint everything, down to each instrument. It was especially true when the Borg came upon the screen and the orchestra was slowly but surely bathed in that eerie green. I felt the apprehension that the Borg is supposed to invoke because surrounding my view was the green, not just what was on the screen.
What struck me most of all was the feelings that the event invoked. During the concert, as the attendees reacted to the scenes and dialogue on screen and the performance on stage, I felt a connection to everyone in that room. It was a moment of total fan love that I had only experienced a few times before.
When the concert had ended and we were waiting to leave, I remember telling Reboot how amazing I felt from that performance. I was an experience that had rejuvenated my fan love and a fantastic way for me to kickoff my own personal Star Trek 50th Anniversary Celebration.
Like what you just read? Let us know in the comments below and keep up to date by following us on
Twitter
,
Facebook
and
Tumblr
!