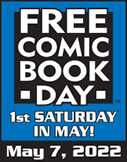 Today they announced the Gold Sponsor comics for Free Comic Book Day. Yes, Free Comic Book Day isn't for 6 months but I don't care! I'm excited and cannot wait!!!
The complete listing of Gold Comics was revealed on The Hollywood Reporter, but only a few really caught my eye. Just like always, Marvel and DC have books, but they are yet unrevealed in storytelling. However, these two comics promise to be interesting and unique.
Star Trek: The Next Generation — Mirror Broken FCBD 2017 Edition
IDW Publishing -
(W) Scott Tipton, David Tipton (A/CA) J. K. Woodward
Space... The Final Frontier. These are the voyages of the I.S.S. Enterprise. Its continuing mission: to conquer strange new worlds, to enslave new life and new civilizations... to boldly go where no one has gone before! Return to the Mirror Universe with the Next Generation crew in a way you've never seen them before in this prequel to the upcoming Star Trek: The Next Generation miniseries, Mirror Broken! Captain Jean-Luc Picard will stop at nothing to get his hands on the Terran Empire's newest starship, the Enterprise-D. And no one had better stand in his way! (STL037302)
I Hate Image FCBD 2017 Edition
Image Comics -
(W/A/CA) Skottie Young
Gertrude has been stuck in Fairyland for decades when she finally hears of a secret passage that may be her way back home. But reaching it is easier said than done as she crosses the border into IMAGE where she'll have to chop her way through you favorite characters from Saga, The Walking Dead, Savage Dragon, Spawn, Descender, Black Science, Southern Bastards, and any other character I can add to make sure the original art for this issue sends my children to college! (STL037297)
I hope I got you interested in what is to come for Free Comic Book Day, May 6th, 2017. The 2017 FCBD Silver Sponsor comic books will announced on Monday, December 19th. The complete listing of all FCBD titles will be in the January issue of Diamond Comic Distributors' PREVIEWS catalog, on sale at all comic book shops December 28th, 2016.
Like what you just read? Let us know in the comments below and keep up to date by following us on
Twitter
,
Facebook
and
Instagram
!