By Reboot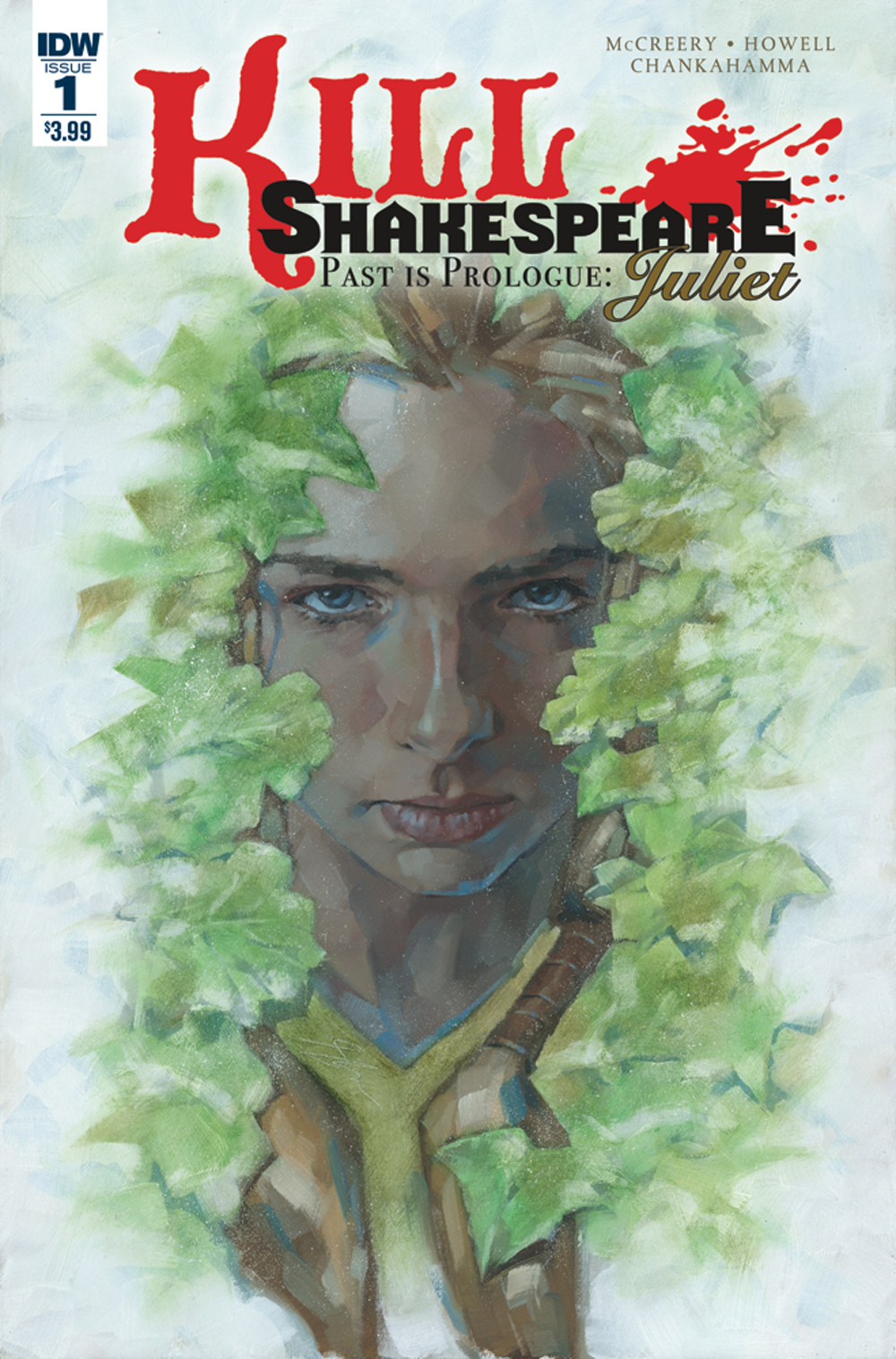 "And if a gentleman showed himself, I'd be happy to take his arm."
Conor McCreery is at it again with trying to kill Shakespeare! That's right, IDW's Kill Shakespeare created by Conor McCreery and Anthony Del Col is back in a fifth installment for the prequel, Past Is Prologue: Juliet. This time Conor McCreery is flying solo as writer with artist Corin Howell, colorist Shari Chankhamma, and letterer Chris Mowry.
So how does issue #1 of this new installment stack up? I was just getting to that. But before I do let me give you the premise, especially for those unfamiliar with Kill Shakespeare as this is also a good starting point for the series.
Kill Shakespeare is a world where Shakespeare's creations, heroes and villains alike, are all real and he's looked up to as a powerful background figure like the Wizard of Oz. Earlier installments have shown off many of the different characters interacting including Juliet, but we never quite got her full backstory.
As many of you are hopefully aware, Juliet from Shakespeare's Romeo & Juliet dies at the end of the play. In Kill Shakespeare: Juliet #1, it's immediately revealed that she had survived the poisoning. Sad and Resentful, Juliet wants to escape from her family to end her life and be with Romeo, but plans don't always work out the way we originally envision them, especially of you're created by William Shakespeare.
Conor McCreery weaves a story here that is dealing with a few less characters than previous installments. It's also a bit of a slow burn. Previous installments have started with a bang and slowed down after, or start with a mystery to keep you turning the pages. Conor's approach here is to take it slow, lay down the groundwork and build on it all the way to the end. It's different from some of what I've seen before in Kill Shakespeare, but it works here.
Corin Howell debuts as the new Kill Shakespeare artist and it's a fantastic debut. I'm not sure how much of it is Conor's scripts or how Corin lays out the pages, but they're mostly very dense with the overwhelming majority of pages being a minimum of five panels. You really feel like you're getting a lot of story in this comic. These layouts are honestly incredible. Most of the pages do an excellent job of bringing your eyes from top center down to bottom center in a way I don't often see done. The last page is the best example of this, and is honestly the best page in the whole comic.
Shari Chankhamma had previously colored Kill Shakespeare which really helped give the book the feel of previous volumes. Shari does an excellent job through the book, but in particular for me the second to last scene where Juliet meets The Player is gorgeously colored and shaded, and the last page is colored perfectly. Really, that page is so incredibly executed.
While Kill Shakespeare: Juliet #1 is somewhat of a departure from the formula we've seen in the previous four volumes, it's an excellent, well paced march to tragedy that is nearly impossible to pull off in a prequel. It's also a great introduction to the series, so please, if you haven't read any of the series yet and want to jump in, this is the way to do it.
Kill Shakespeare Past is Prologue: Juliet #1 hits the shelves on Wednesday, April 5th.
Like what you just read? Let us know in the comments below and keep up to date by following us on
Twitter
,
Facebook
and
Instagram
!